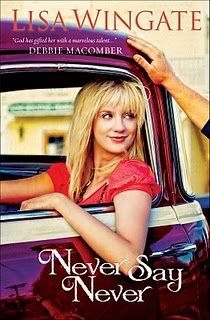 Kai Miller floats through life like driftwood tossed by waves. She's never put down roots in any one place--and she doesn't plan to. But when a chaotic hurricane evacuation lands her in Daily, Texas, she begins to think twice about her wayfaring existence. And when she meets hometown-boy Kemp Eldridge, she can almost picture settling down in Daily--until she discovers he may be promised to someone else. Daily has always been a place of refuge for those the wind blows in, but for Kai, it looks like it will be just another place to leave behind. Then again, Daily always has a few surprises in store--especially when Aunt Donetta has cooked up a scheme.
Book Review:
Never Say Never was a lovely story of new love, forgiveness and the chance one takes to find where they belong, find a "home" and put down roots.
Lisa Wingate is a new author for me and I really enjoying her novel Never Say Never. Her writing is simple and full of color. She paints a vivid picture of the main characters without being over the top.
The beginning of the book did have a few slothy moments but soon picked up.
Lisa has a subtle way of presenting issues the main characters deal with and are never overwhelming. In fact, the story rolls smoothly along until the crescendo 3/4th's into the book. I will say, Kai and Kemp's blossoming relationship had me intrigued and was well worth waiting for.
Bottome Line: Never Say Never is a book worth reading. Lisa Wingate shares a wonderful tale of love and the struggle to find yourself and your place in the world that readers of all ages will relate to.



WORTH READING