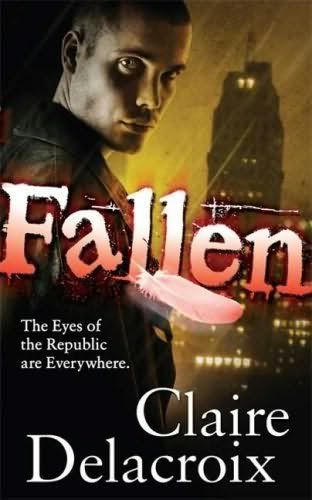 Synopsis: When her estranged husband's mysterious death is declared an accident, Lilia Desjardins knows that it is a lie. She leaves all she knows to risk the dark heart of the Republic - only to find that she herself has been targeted by forces unknown.

Adam Montgomery will do anything to complete his earthly mission, even if he has to tangle with the enigmatic Lilia Desjardins. But when his contact is murdered and he must rely on Lilia's silence to save him from the slave dens, Adam knows that his wings were only the first sacrifice required of him.

As danger and intrigue surround them, Lilia and Adam realize that they must work together - body, mind and soul - in order to save the world.
Book Review:
I was very suprised I liked Fallen this much. I'm not usually into stories that deal with the future where there are lazers, pseudoskins and such. But the plot and the characters were very exciting and I had a great experience with this particular "future" book.
Claire Delacroix is very well versed in vocabulary, fantastic visual descriptions and action scenes. The main reason I was able to enjoy this book despite its subject was because the surroundings and characters themselves were essentially believable.
Bottom Line: I love a great action hero and Lilia Desjardins is no exception. This book was a great distraction and full of action. There were plenty of hard-headed protagonists and enough love scenes to satisfy a romanace reader.




LIKED IT!