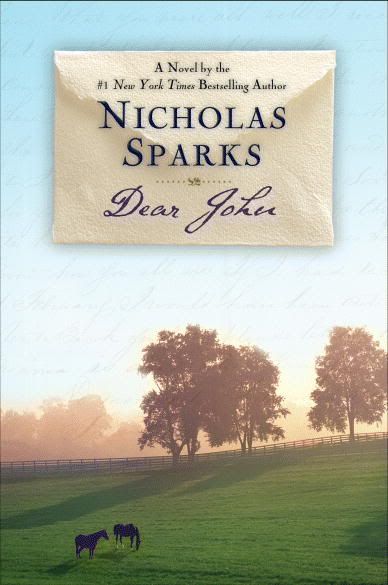 Funny how fate works sometimes, I was setting in the theater with my husband watching the previews before the New Moon movie. A preview for a movie called Dear John came on...and I looked at my husband and said "That movie looks so good, guess your going to have to take me to see another chick flick." Then at work on Monday during my lunch I was looking at the Hastings website to find a new "different" book, one out of my normal realm of books. So I was just going their Best Seller pages and to my suprise there was a book called Dear John. Normally I would have just scrolled right on past, but I remembered the name from the theater. I decided as soon as I got off work I was going straight to Hastings to buy it and I did just that. I finished the book in less then 6 hours.
I could not put Dear John down. I have never read any of Nicholas Sparks books. I have seen a couple of the movies, for example the Notebook. It's rare that while reading a book that I get tears in my eyes. To me that signifies a wonderful author, who can write so well that he makes you feel the emotions of the characters. All the characters were excuted perfectly, you could picture how they looked, how they talked and felt all their emotions. The book had just enough of everything to be well rounded. Their was love, heartbreak, death, excitment of a new love, tears, war scenes, etc.
There was not a boring part of the book, it started out with "What does it truly mean to love someone" and let me tell you they answer that question 100% I am now a HUGE fan of Nicholas Sparks, and am going to be buying more of his books. Look forward to many more reviews coming on his books.






LOVED IT