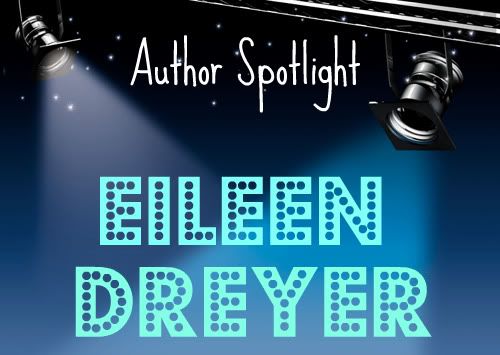 Book Lovers Delight is proud to present the award winning and best-selling author,
Eileen Dreyer
. She has published an amazing
41 novels
and is author of the brilliantly written historical romance novel, Barely A Lady. Eileen, thank you for your time. I know you have many fans out there who devour your novels and are eager to hear from you. So let us get started.
BLD:
What is your name and where are you from?
ED:
Eileen Dreyer (aka Kathleen Korbel) from St. Louis, Missouri
BLD:
Tell us about your latest project?
ED:
The book I have out now is my first foray into historical romance. Entitled BARELY A LADY, it is the first in my DRAKE'S RAKES series about a woman who finds the man who divorced her five years earlier, injured on a battlefield, wearing a French uniform, and having no memory that they were ever divorced.
I've already finished the second book in the series, NEVER A GENTLEMAN, and am now working feverishly on the third, ALWAYS THE TEMPTRESS.
BLD:
Who is your greatest fan and what would you like for them to know?
ED:
Actually, that's my husband, and I'd like him to know that he's right. I do model my heroes after him (not the divorcing and deserting part).
BLD:
If being a writer meant you were cursed and everyone's Karma was dumped on you, what would you be instead and why?
ED:
I'd be a cabaret singer. My dad was a Big Band singer in the 40s and taught me how to style music. I love singing anything (blues, rock, Broadway, trad Irish), but my favorites are still the standards like Stardust and Someone to Watch Over Me.
BLD:
What are the top three things you couldn't live with out?
ED:
My family (clichéd but true), my imagination, and music.
BLD:
When developing characters, your perception of each character may change throughout the story. In Barely a Lady, how do you feel about your main characters, Olivia and Jack at this time?
ED:
Ooh, good question. What I realized was that I went into this book knowing all about Olivia, but nothing really about Jack. I had to understand how, even after he'd hurt her so badly, she could have loved him so much. After writing it, I still didn't like the Jack of five years earlier. He was a nice guy, but too immature for the responsibility of another person's life. But I really love him now, for all his flaws. And they both have them. I don't think any character is interesting without them.
BLD:
What is your source of inspiration when beginning a new story, creating characters or a new chapter?
ED:
My source is always a variation of two questions. Why? And What if? Why do they do those things? Why do these things happen? Why do these two people seem drawn to each other against all the odds? And what if this thing happened? What if this obstacle was put in my characters' way? What if everything wasn't as it seemed?
In Jack and Olivia's case, it began with What if a divorced woman discovered a wounded man on a battlefield who turned out to be the man who divorced her? What if that man were wearing an enemy uniform? What if he can't remember why? What if, even worse, he can't remember the last five years, which means he thinks he and the heroine are still married? Why would she protect him? Why would she go along with the pretense that they're still married? Why did he leave her in the first place? Why was he in an enemy uniform? You see how you can keep going forever. In fact, my editor often asks me to rein in the questions, because I can keep spinning the ideas way past my word count limit.
BLD:
Favorite quote?
ED:
I'm a quote collector. But I'd have to say that I have two favorites, one about life and the other abut writing.
"Life is a banquet, and most poor bastards are starving to death." Auntie Mame
"There are three hard and fast rules to writing a book. Unfortunately, nobody can agree on what they are." Somerset Maugham.
BLD:
Where can book lovers find your novel and how can they contact you for more information?
ED:
Right now it's in all the retail outlets, including WalMart and Target, and online with the usual suspects. I'd love for people to contact me through my website, www.eileendreyer.com and sign up for my newsgroup (for a girl with ADD it's the best tool we've come up with for me to keep my readers informed in a timely manner). You can email me through the website, or find me on Facebook: http://www.facebook.com/home.php? And Twitter (I'm still getting up to speed here). I do love to hear from people. I do add a caveat. When I'm on deadline, like now, it sometimes takes a bit for me to answer.
BLD:
Is there anything else you would like to share with your fans?
ED:
Although this is my first historical romance, I've been writing for a while. As Eileen Dreyer I've also written medical thrillers and, with Jenny Cruise and Anne Stuart, a paranormal romance. As Kathleen Korbel I wrote twenty-five Silhouettes. I was inducted into the Romance Writers of America Hall of Fame for my work as Kathleen Korbel. I love talking and teaching writing, and visiting with other book people. As for my own reading tastes, they're as eclectic as my music. I read, simply, everything. And now that I'm doing historicals, I've added even more with research books on the 19th century.
Oh, and because the question has been asked. I was a trauma nurse for 16 years, and am trained in forensics and death investigation. So when I'm doing battle scenes or the odd conk on the head, I do know the territory.
Eileen, thanks so much for stopping by and best wishes on your future successes :)