So I finished Lover Avenged and Lover Mine a few weeks ago, and have been so busy with other books I haven't had a chance to write my reviews. This one is going to be short, because like past reviews on this series we all know I LOVE THEM!
I really enjoyed Rehv's story and how it's tied into the brotherhood. Rehvenge is this totally badass guy who lives this secret life that only a select few know about. I also enjoyed Ehlena she is one of my favorite shellens. This book had a wonderful story line that has kept evolving through each book and keeps getting better. I don't want to ruin anything for anyone on the book, so your just going to have to trust me when I say READ IT!!!
About the book: Caldwell, NY, has long been the battleground for the battleground for the vampires and their enemies, the Lessening Society. It's also where Rehvenge has staked out his turf as a drug lord and notorious nightclub that caters to the rich and heavily armed. His shadowy reputation is exactly why he's approached to kill Wrath, the Blind King, and leader of the Brotherhood.
Rehvenge has always kept his distance from the Brotherhood, even though his sister is married to a member. Because he's a sympath, his identity is a deadly secret - the revelation of which will result in his banishment to a colony for sociopaths. As plots within and outside the Brotherhood take their toll against Rehvenge, he turns to the only source of light in a darkening world- Elhena, a vampire untouched by the corruption that has its hold on him - and the only thing standing between him and eternal destruction.
I have been waiting and waiting for John and Xhex's book! I was so excited to finally be able to read it! This book was heartbreaking and amazing all in one. Their connection has been building and building all through the books. Xhex is totally badass and no one tells her how or what to do. I'm really interested to see where Qhuinn and Blay end up story wise....now that will be interesting to see if it goes where I think it might lol.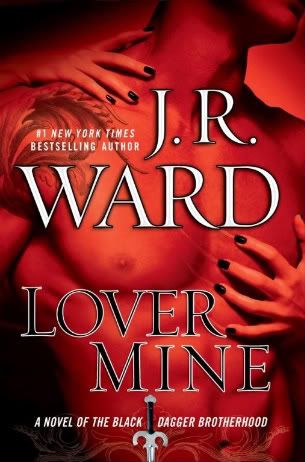 Synopsis: In the shadows of the night in Caldwell, New York, there's a deadly war raging between vampires and their slayers. And there exists a secret band of brothers like no other - vampire warriors, defenders of their race...John Matthew has been through his vampire transition and taken to the life of the Brotherhood with a vengeance, but he still can't shake the nightmare of his past and is unsure of his future as a warrior hero. He's made a promise to honour the Brotherhood and their fight with the slayers at all costs, until the love of his life is kidnapped and he is forced to make a choice that could change his life and the Brotherhood's forever...
Both of these are must reads...and totally smutty!






LOVED IT!