WOW Patricia Briggs may be one of the nicest most down to earth people ever! Not to mention an amazing author!! Tonight was so much fun, Karina and I started the night with an appetizer at the local mexican food joint, then we scooted over to Barnes and Noble. In good old Elizabeth fashion I didn't get out for under 70 bucks...BUT one of those books will be one of our lucky followers..details to come but the authographed book that Patricia Briggs is holding in the picture below will belong to someone, we just have to work out the details of the competition!! We met some amazing fans and had good times, and a couple hours of good ol' book talk. It's so amazing when you get a bunch of people together who just LOVE books! All in all it was an amazing night, and we are looking forward to hopefully be able to do a author spotlight with Patrica soon!!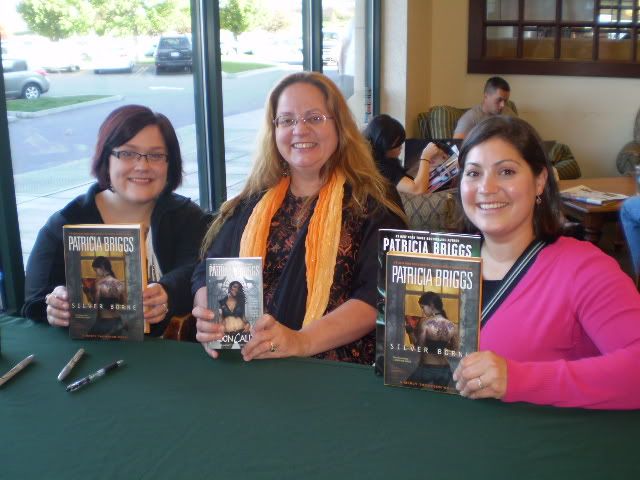 I am totally gushing over one of my favorite authors, Patricia Briggs. Like Elizabeth pointed out, she must be one of the coolest, down to earth authors out there. I remember beginning to feel very nervous and excited when the crowd was told she was in the building. Being a nervous goofball that I am, I was like, "what do we do? clap? holler?" The wonderful ladies that we had met earlier agreed to make some noise including the rest of the crowd. It was especially great when Patricia Briggs made time to add to comments/questions Elizabeth and I had for her.
Awesome, great, excited, nervous experience and I wouldn't change a think about it.
Thank you, Patricia Briggs for a wonderful urban fantasy series. It was a real treat to me you and we can't wait to read Mercy Thompson's next adventure.
And silver Borne was a true knockout! Keep them coming ;)