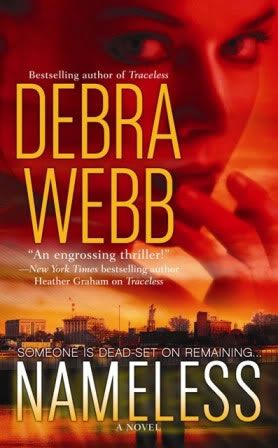 Nameless by Debra Webb (335 pages)
Synopsis: FBI agent-rookie, Vivian Grace, has been assigned to bring the legendary Ryan McBride, ex-agent, to assist with a high profile case. A mad man on the streets of Alabama has been taking random people as victims and will only negotiate with McBride. It's been three years since McBride was terminated from the missing persons unit, blamed and used as a scapegoat for an operation gone wrong, ruining his impeccable ten year service. Between being hungover, smoking a pack a day, and bedding beautiful women, McBride decides to brake the vicious cycle and take on the case under one condition. Vivian Grace will be his partner throughout the investigation. Unfortunately, Vivian nor McBride will realize that their pasts are the key to unfolding one of the biggest crimes the nation has ever witnessed until it's too late. Or will they?
Book Review: I picked this book to read because I had a great time reading
Traceless
from Debra Webb. Her style of writing is a bit different from other authors like Sandra Brown and Janet Evanovich (who are some of my favorite others)but enjoyable nonetheless. So I knew I would enjoy reading this one.
In the book, Nameless, Vivian Grace plays a strong female. She's very beautiful, very intelligent, professional, but her past catches up with her and it begins to show throughout the investigation; something she can't afford if she wants to prove once and for all she's a damn good agent. McBride doesn't miss a beat. He notices the subtle hesitations and confronts Vivian about them. Better to face her demons before they ruin her life, like they did his for the past 3 years.
McBride is a great character to follow. He plays this ruggedly handsome, roughed up guy with a don't-give-a-shit attitude, but underneath, with Vivian by his side, he thaws out a bit. It's so entertaining to see the main characters reactions to the facts they learn about each other as the story progresses. The back ground characters are fantastic as well.
There is this one character named Pierce, Vivian's old boss, who is mentioned a few times. He seems to be important and the author keeps hinting at it. So finally about three quarters into the book, his presence is finally explained but it's kind of a let down. Maybe because I didn't really like him from the beginning. Anyway, Pierce's role towards the end makes sense and I understand why the author kept him around til the end.
The plot is similar to other PI, FBI books, with finding victims and dealing with constraints and such, but the characters make you see past the similarities and literally pull you into the story, making it its own. This is a very fast paced book with heavy doses of urgency from the rescue teams, the victims and the time crunch.
The romance in the book was very intriguing and doesn't begin until the middle of the book or so. It's so exciting to witness the moment the characters really notice each other. That was very well written.
Nameless
is a very entertaining story with memorable main characters. I recommend this book for mystery lovers and romantic suspense devotees. Enjoy!




LIKED IT