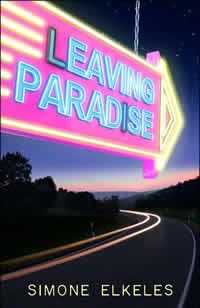 Leaving Paradise by Simone Elkeles (303 pages)
Synopsis: 17 year old, Caleb Becker has just been released from the Illinois Department of Corrections Juvenile Complex after spending a year in confinement. He wants to get his old life back and forget the car accident ever happened; the car accident that left his twin sister's best friend and neighbor, Maggie Armstrong, walking with a limp. The last thing he wants is to bump into Maggie but as fate would have it, he ends up serving community service assisting Maggie's boss. Caleb and Maggie can't avoid each other; not if Caleb wants to finish his community service. Can Caleb confront the truth about that fretful night and move on? And can Maggie find it in her heart to forgive him?
Book Review:
Simone had done it again. I am a sucker of happy endings but Leaving Paradise had me reaching for the tissue box.
Caleb's attempt for normalcy around his ex-girlfriend and buddies crumbled as they revealed their true perception of him. It was frustrating and heart breaking. And Maggie's account after the accident was both inspiring and dreadful. But the story was not all gloom and doom. There was so many magical moments that took my breath away.
The book is written showing Caleb's and Maggie's view point and I love that about Simone's books. I got a real look into the character's motives and emotions. Also, the plot was very well balanced and emotionally driven. So when a tragic moment was revealed, I was soothed with an inspiring moment.
This book beat Magic Mountains roller coasters. I was frustrated, disillusioned, inspired, grateful and awed. Kudos, Simone Elkeles, that was fantastic writing.
This book has earned five hearts, I loved it.





LOVED IT!