Finally! It's here, the cover to Richelle Mead's 6th and final book from the Vampire Academy Series.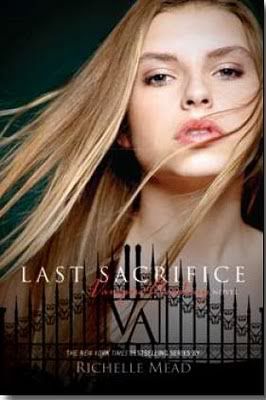 Release date is December 7, 2010!!! (Note, RM's website said Dec. 14, but recently read book release was moved up a week.)
This book better end up tying all the lose ends in Dimitri and Rose's relationship; I have super high hopes for D and R. At the moment, I am sooo traumatized because of Spirit Bound :)
As for any spin-offs, I predict Adrian will have his own or at least be a big player in the next series because he has grown up so much in Spirit Bound and is such a lovable character, everyone wants him to be happy, just not with Rose. That's Dimitri's territory.
As for who Adrian ends up with, it will have to be in the next series assuming Richelle Mead isn't taking the 6th's book title literally. I mean that Rose better not even sacrifice her true love for Dimitri(who's in the middle of pity party) to be with Adrian, who is so loving and understanding, no offense to Team Adrian fans out there. I would not be able to comprehend that ending if it happens (crossing fingers). Nevertheless, as devoted fans of Vampire Academy, we would need closure for Adrian because he is such a big character, he'd have to appear in the next series.
I am so happy and very surprised that I only have to wait 5 months before
Last Sacrifice
hits stores. Isn't it usually a year before the next book comes out? It feels like that anyway when playing the waiting game for the next book.
To visit Richelle Mead's website, click
here
.