This is the cover of Becca Fitzpatrick's sequel to Hush, Hush; released April 10, 2010.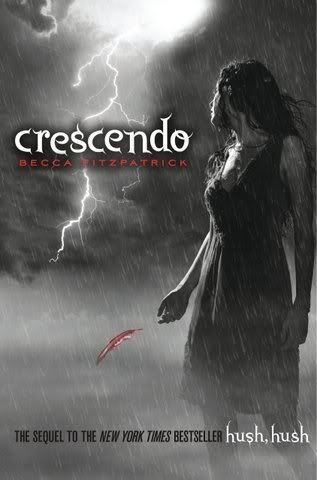 The lightening in the background was Becca's idea and which by the way is a great addition to the cover.
Here is a little synopsis from amazon.
Nora should have know her life was far from perfect. Despite starting a relationship with her guardian angel, Patch (who, title aside, can be described anything but angelic), and surviving an attempt on her life, things are not looking up. Patch is starting to pull away and Nora can't figure out if it's for her best interest or if his interest has shifted to her arch-enemy Marcie Millar. Not to mention that Nora is haunted by images of her father and she becomes obsessed with finding out what really happened to him that night he left for Portland and never came home.
The farther Nora delves into the mystery of her father's death, the more she comes to question if her Nephilim blood line has something to do with it as well as why she seems to be in danger more than the average girl. Since Patch isn't answering her questions and seems to be standing in her way, she has to start finding the answers on her own. Relying too heavily on the fact that she has a guardian angel puts Nora at risk again and again. But can she really count on Patch or is he hiding secrets darker than she can even imagine?
For those of you who are still thinking about maybe reading Hush, Hush, I'd say you better get to it because it is not only a brilliant paranormal YA story but you will fall in love with at least one character if not, all of them. My one wish, if I had only one, with out dealing with a genie, it would be to have Hush, Hush made into a movie. If they can do movies with werewolves and vampires, I know the studios can drum up a couple of angelic wings, right?
To all of the Book Lovers Delight followers, thanks so much for your patience. Elizabeth and I have been focused on a few life changing "situations" and we are super excited about them. I promise you we will get back into blogging our awesome reads to share with all of you.
We'd also would like to hear from you; what you have been reading lately and what you have on your nightstand at this moment you just can't wait to read.