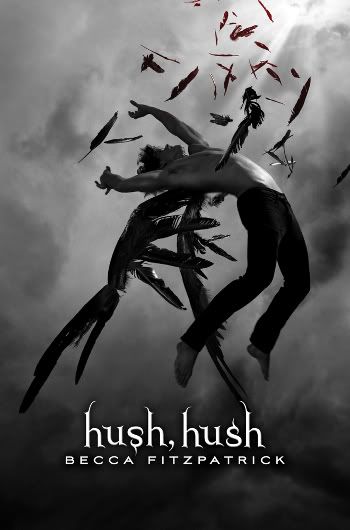 Sixteen-year old Nora Grey is partnered in biology with new student Patch, and she starts seeing things she cannot explain. At first she's both drawn and repelled by her lab partner, but when she sees V-shaped scars on his back, Nora learns Patch is more than she bargained for.
I read Hush Hush by Becca Fitzpatrick and I would like to thank
Ramblings of a Teenage Bookworm
and
Michelle's Bookshelf

for this. Your reviews had me at "Patch".
I can't tell you how many times I have seen the cover of Hush Hush. I mean the cover was literally every where so I went to some of my favorite blogs to get myself educated quick and figure out what this book was all about. I read the reviews and couldn't for the life of me figure out why I waited so long to read it. It sounded so good and this Patch character had me very intrigued. Soooooo, I found myself a copy and read it top to bottom.
Wow! Let me tell you. The very introduction of Patch had me feeling butterflies. He was described as this tall, lean muscled, black haired walking mystery. And he had this cocky persona and a sexy grin that would make female readers furious one minute and gulping hard for fresh air the next. I loved the character Patch. His character had so much to offer the reader. With every chapter I had to analyze his real intentions towards Nora. Was he a good guy or a bad guy? Every encounter of theirs had my pulse racing.
With Nora, a cute and curly haired brunette with good grades and high expectations, I liked how her perfect world became interesting and worth fighting for when Patch disrupted it. The internal struggles she had to deal with on a day to day basis that stemmed from Patch's appearance in her life was so alluring, she had me scratching my head with her. Nora's character was so much fun to follow and had me rooting for her every step of the way.
Becca Fitzpatrick did an incredible job creating deep connections from character to reader. She made me care about Patch and Nora. I recommend this book to all!
This book, along with Patch, won my heart and all 5 hearts below!





Love it!