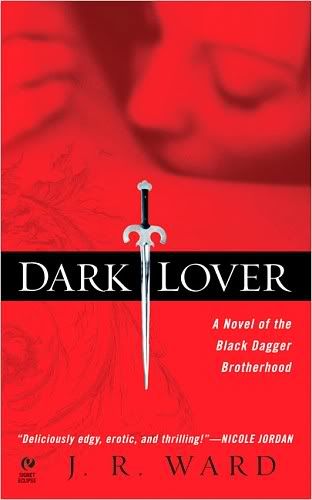 Synopsis:
"The only purebred vampire left on the planet, Wrath has a score to settle with the slayers who murdered his parents centuries ago. But when one of his most trusted fighters is killed- orphaning a half-breed daughter unaware of her heritage or her fate - Wrath must usher the beautiful female into the world of the undead…
Racked by a restlessness in her body that wasn't there before, Beth Randall is helpless against the dangerously sexy man who comes to her at night with shadows in his eyes. His tales of brotherhood and blood frighten her. But his touch ignites a dawning hunger that threatens to consume them both…"
I just finished reading Dark Lover by J.R. Ward, the first books in the Black Dagger Brotherhood. While it was a quick read for me, it was well worth my time. The book begain with a glossary of terms used in the book and there meanings, which was very helpful at times. Wrath and Beth were the main characters in this book, and being that it was a romance book there were a lot of passionate scenes, all of which fit well into the book. They weren't there just to be there or to fill in spots of the book. The characters were all well written and played an important part in the book. The reader gets a good sense of the all the characters and some of them even suprise you! J.R. Ward wrote this book wonderfully and I am excited to read more of her books.




LIKED IT