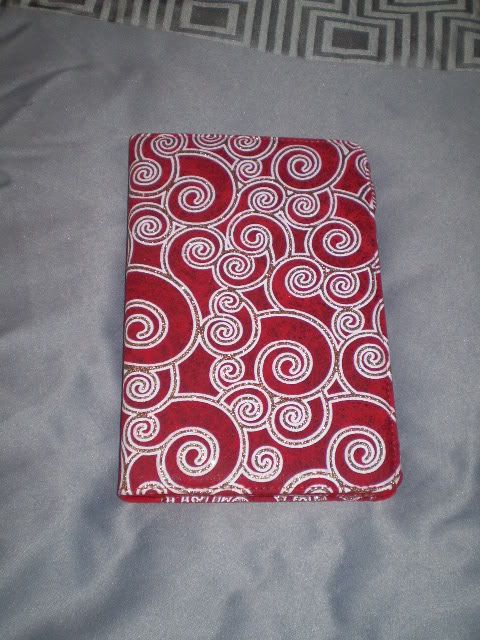 Hi Everyone!! I know I've been a little MIA the last couple of weeks, but sometimes my life just gets a little to overwhelming =) But I have been reading like a mad woman, and I've almost finished a whole series of books by Lara Adrian, I am also reading the first book in the Sookie Stackhouse series, and a couple more free books-Once a Cowboy by Linda Warren and Kiss Me Deadly
by Michele Hauf. So today is Sinful Sunday, and awhile back I posted a poll of the Kindle and if I should get one. Well I just received mine in the mail on Friday and I LOVE it! It is so much better then I was expecting. Some of the best features? All the FREE books on
Amazon.com Kindle Store
not to mention, the prices in general are better then some of our local bookstores! (I have gotten 3 free books and have started reading 2 of them. Honestly they would not have been something I would pick up off a shelf, but they are pretty good books and I am really enjoying them!) When I decided I to buy the Kindle, I also decided I would still keep buying physical books. If it's a really short read or I'm not sure about the book, I will buy it on the Kindle. The rest I will buy the physical book. Best of both worlds =)
I love the Text to speech function. Sure it doesn't read it as we do in our heads, and it runs words together and has the occasional mispronounced word. But when I want to do something else that requires my hands, like typing or cooking or cleaning, it is a GREAT function. I will use it all the time! I haven't put music on it and don't plan on it, since I have an iPod Touch. I will occasionally use the Internet connection, but it is a little slow and hard to navigate.
All in all I am very impressed with this gadget and think that it was worth the $189 dollars that I spent on it! I will end up saving that much in books. Below is more information if you are thinking the Kindle might be for you!









Slim:
Just over 1/3 of an inch, as thin as most magazines
Lightweight:
At 10.2 ounces, lighter than a typical paperback
Books in Under 60 Seconds:
Get books delivered wirelessly in less than 60 seconds; no PC required
3G Wireless:
3G wireless lets you download books right from your Kindle; no annual contracts, no monthly fees, and no hunting for Wi-Fi hotspots
Global Coverage:
Enjoy 3G wireless coverage at home or abroad in over 100 countries. See details. Check wireless coverage map.
Paper-Like Display:
Reads like real paper without glare, even in bright sunlight
Carry Your Library:
Holds up to 1,500 books
Long Battery Life:
Read for up to one week on a single charge with wireless on. Turn wireless off and read for up to two weeks.
Social Networks:
Share your passion for reading with friends and family by posting favorite passages to Twitter and Facebook directly from your Kindle
Built-In PDF Reader:
Carry and read all of your personal and professional documents on the go. Now with Zoom capability to easily view small print and detailed tables or graphics
Read-to-Me:
With the experimental Text-to-Speech feature, Kindle can read content out loud to you, unless the rights holder made the feature unavailable
Large Selection:
Over 620,000 books and the largest selection of the most popular books people want to read, including 109 of 112 New York Times® Best Sellers, plus U.S. and international newspapers, magazines, and blogs. For non-U.S. customers, content availability and pricing will vary. Check your country.
Low Book Prices:
New York Times Best Sellers and New Releases from $9.99
Out-of-Copyright, Pre-1923 Books
: Over 1.8 million free, out-of-copyright, pre-1923 books are available to read on Kindle, including titles such as The Adventures of Sherlock Holmes, Pride and Prejudice, and Treasure Island. Learn more
Free Book Samples:
Download and read first chapters for free before you decide to buy
Check out more info on the
Amazon Kindle here
!