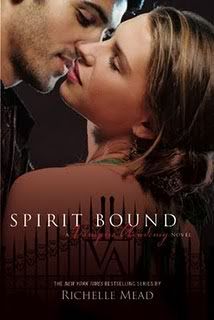 Spirit Bound by Richelle Mead (489 pages)
WOW! Is all I can pretty much say about this book! I love, love, love, love, LOVE the Vampire Academy books! Plus this book totally took me 100% by suprise! Don't read any further, unless you don't mind a spoiler!!!
~~~~~~~~~~~~~~~~
Seriously...the queen is dead?! Immediately I am wondering...who done it, this is my guess, Tasha Ozera. I'm not really sure why I feel that way and may be completely wrong...but I'm gonna say it's her!
I was really sad about the whole Dimitri/Rose situation! I mean come on Dimitri seriously!? After all Rose did for you!! I feel really bad for Adrian though, poor guy is head over heels for a girl that just wont ever feel that way. Also, in my opinion Rose and Lissa's friendship just seems really strained. They have always been so close, and for the majority of this book they weren't even in the same area let alone room. I cannot wait for the next book, and I am really hoping it wraps up all the loose ends! This series still has a lot of books to produce, and they haven't disappointed me yet, I personally like them more (dare I say it?) then Twilight. I know shocker right :) If I could I would give this book like 10 hearts but I think 5 will get the point across =)
Okay on a side note, Karina and I had a "meeting" today and brainstormed for atleast a couple hours. Stay tuned for things such as "SINFUL SUNDAY" and BOOK COVER WARS etc. to may exciting things to list them all out here, your just going to have to stay tuned!!






LOVED IT!