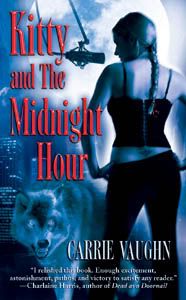 You know those books at the far end of the shelf you say you'll read when you have time, but once you get to it, you just can't seem to pick it up and read it? False Memory by Dean Koontz was that book for me. I gave it an honest shot and picked it up and read the first few chapters. It was okay. But on my next attempt, it became harder to pick up, and eventually, I never picked it up again. Yet, the book laid there waiting to be read. That is when I knew. It was time to break up with the book and move on. So I did (huge smile) and I chose to read Kitty And The Midnight Hour. Breaking up with one of your favorite Authors creations is hard to do and in my case it had to be done if I wanted to find the next fascinating book.
Kitty is a new werewolf, submissive and enjoys very much her new gig as the Host of Kitty and the Midnight hour. Supernatural beings and all that goes bump in the night call in and tell Kitty their story and take in advice. A few people are convinced Kitty is outing the supernatural and will stop her at any cost. Thank goodness, Kitty is becoming more of a tough wolf and fights back, wanting only to help callers. All the while, her pack leader's alpha female has become a little distracting and Kitty must find a way to get her off her back literally.
I love when a female heroin grows comfortable in her own skin. Kitty becomes this resilient woman before my very eyes in search for the truth. This book is a great read and I cheered Kitty all the way, especially when kicking the bad guys butts. GO KITTY!





Liked it!